Accessories and Getting Dressed

---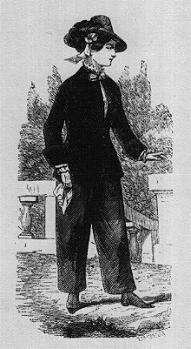 Fashion Plate, c. 1840
(Courtesy of the Bertarelli Collection, Milan)





While the rational dress consisted of multiple garments, a dress or tunic and trousers, that was not all a female dress reformer wore, of course! Undergarments were as important in the nineteenth century as they are today, even though their construction has been modified greatly over time. Similarly, accessories, such as headwear, jewelry, and shoes, were significant and allowed a woman to express her own tastes in the nineteenth century just as they do today. This page offers a few guidelines for appropriate undergarments as well as suggestions for possible accessories to wear with a rational dress. Please feel free to contact me at Bloomerite@hotmail.com if you have any other ideas, questions, or comments. Enjoy!



Undergarments:
Many women wore the rational dress because it allowed them more freedom of movement and was more practical for accomplishing daily tasks. Therefore, few women who dressed in this manner wore corsets and multiple petticoats underneath their clothing. Instead, they were more likely to wear a chemise, ladies pantaloons/pantalettes, and work stays/rational corset (but it is safe to say that some women went without any type of corset, although that was not too common).
Shoes:
After closely examining period illustrations, photographs, and written documentation, it is difficult to find much of a difference in shoes styles between conventionally dressed women and dress reformers of the era. The basic style for day shoes had square toes, low heels, were ankle high, made of leather, and had side elastic gussets or front or side laces.


The image on the left shows the shoes of a woman wearing a rational dress, and the image on the right shows a pair of reproduction mid-nineteenth century ladies shoes.
Accessories:
Hats -

The most common style of headwear worn by female dress reformers was a low-crowned, wide-brimmed hat. Many of these women wrote about how restrictive bonnets seemed to be, limiting the wearer's field of vision and hiding her natural face. Of course, that did not mean that these women refused to wear bonnets. Depending on the occasion or the woman's personal tastes, bonnets could also be worn.


The above images demonstrate the most typical styles of hats worn by dress reformers. The image on the left comes from a mid-nineteenth century carte de visite, and the image on the right comes from a nineteenth century fashion plate.




Jewelry -

Once again, the type of jewelry a dress reformer wore depended highly on her personal preferences. It is impossible to say, for example, that dress reformers wore necklaces but not broaches.
---
Back to

---

Copyright 2002 by Britta Arendt