Dress Reform in the Media

---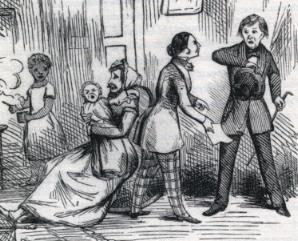 (Courtesy of Yankee Notions, September 1852)

As mentioned previously, society feared that if the Dress Reform Movement was successful, women's roles would drastically shift and possibly reverse, causing women to take over conventional male roles. The cartoon above suggests such an outcome. The original cartoon has the caption: "Man in his Natural Position, and Woman where she ought to be."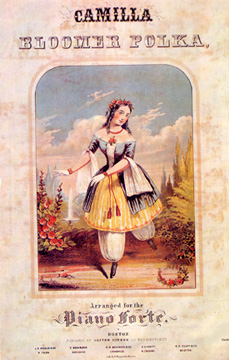 (Courtesy of the Kean Archives in Philadelphia, Pennsylvania)

The above image comes from the cover of a booklet of sheet music, "Camilla, or Bloomer Polka." Songs, such as this, often depicted dress reform in a sarcastic manner as a fashion craze.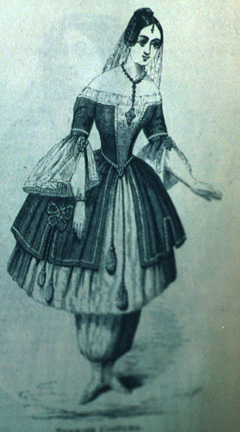 (Courtesy of Harper's New Monthly Magazine, July 1851)

Several magazines of the mid-nineteenth century provided illustrations and even patterns for various styles of the "Bloomer Costume." However, few of the illustrations reflected what dress reformers actually wore. For instance, the image above shows a woman with an extremely small waist size that could only be achieved by wearing a corset-- an undergarment that dress reformers sought to eliminate from their wardrobes. Similarly, the woman's skirt seems so full that multiple petticoats must be worn to achieve such an appearance-- another aspect of conventional women's dress that many reformers despised.

(Courtesy of the Webmaster's collection)

Here is another illustration from a mid-nineteenth century magazine, Peterson's Magazine, January 1852.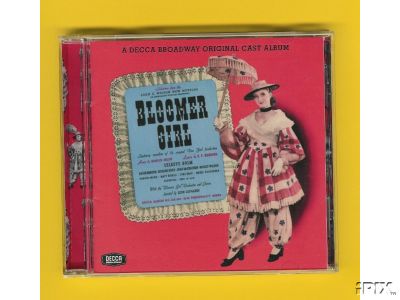 (Courtesy of the Webmaster's collection)

This is the cover of a CD booklet for the musical, "Bloomer Girl," which received popularity in 1944 when it appeared on broadway. The musical traces the progress of the Dress Reform Movement through the eyes of the protagonist, Evelina Applegate, a woman living during the midst of the American Civil War.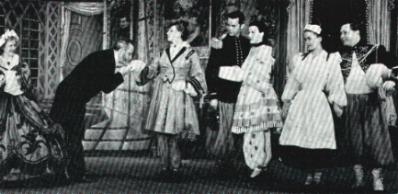 (Courtesy of the Webmaster's collection)

This picture was found in a souvenir booklet from the 1944 production of "Bloomer Girl."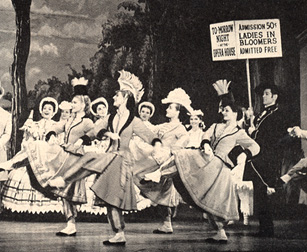 (Courtesy of the Webmaster's collection)

This photograph comes from the November 6, 1944 issue of Life magazine. It depicts a scene from the musical, "Bloomer Girl."
---
Back to

---

Copyright 2002 by Britta Arendt